3 Actionable Tips for Choosing a Heat Pump(Applies to Whole House)
3 Actionable Tips for Choosing a Heat Pump(Applies to Whole House)
With the development of new energy, more and more people choose heat pumps to replace natural gas and boiler heating, but people often ignore these when choosing the best heat pumps, let's learn.
Tip 1: Eight different factors to help you determine the right size of heat pump for your home
The local climate, including the number of days per year that heating and cooling are required
The size and layout of your home
How many windows do you have and where they are located
Air filter for your home
Quality of Insulation in Your Home
How many people live in your home
Your Favorite Temperature
Heat-generating equipment in your home
Tip 2: How to decide which size I need?
In your home, we start by considering the square footage of the room/area and use this guide to determine the size of the heat pump for the space:
9,000 BTU - ~250 SQ FT to ~ 450 SQ FT
12,000 BTU - ~550 SQ FT to ~ 800 SQ FT
15,000 BTU - ~750 SQ FT to ~1100 SQ FT
18,000 BTU - ~850 SQ FT to ~1250 SQ FT
Tip 3: The danger of oversized heat pump
If you purchase equipment that is too large for the area where it is installed, two things will happen.
The unit will turn on and off frequently
Heat pumps usually don't run long enough to trigger a so-called defrost cycle
Tips Special reminder: To buy a suitable house heating and cooling heat pump, be sure to let a professional visit your home and evaluate the best positioning and size of the heat pump for you.
CONTACT US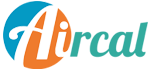 AIRCAL HEAT PUMP CO., LTD.
We are always providing our customers with reliable products and considerate services.
If you would like to keep touch with us directly, please go to contact us