Why is pool water cold on a hot day?
No matter what kind of swimming pool, there is a requirement to maintain a constant temperature of the pool water, and the temperature of the pool water varies with the nature of use.
The heat loss of the swimming pool has the following aspects: (especially in the conduction of the villa swimming pool equipment)
1) Swimming pool water continuously loses heat due to water surface evaporation, water surface conduction, pool bottom and pool wall conduction
2) Because people swim in the swimming pool, they will lose part of the pool water, which must be replenished continuously, and the replenishment water needs to be heated, and part of the heat needs to be replenished
3) In addition, equipment and pipes throughout the swimming pool are constantly emitting heat to the surrounding environment.
All of the above-mentioned lost heat needs to be continuously replenished to maintain a certain temperature of the pool water. These heat losses, combined with the heat load of swimming pool showers, etc., can be called regular heat load
In addition, the constant temperature pool water is also required to be replaced all at once. For cleaning and disinfection requirements, within a certain period of time, it is required to empty all the pool water and re-enter warm water. If the supplemented water is cold water (water temperature is 5-15 ℃), then the heat required to heat the whole pool of water is a one-time shock load
CONTACT US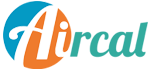 AIRCAL HEAT PUMP CO., LTD.
We are always providing our customers with reliable products and considerate services.
If you would like to keep touch with us directly, please go to contact us