30kW eco-friendly inverter heat pump air source air to water Professional manufacturer
30kW eco-friendly inverter heat pump air source air to water Professional manufacturer
Aircal King Heat Series heat pump is high COP DC Inverter (variable-speed) heat pump for heating and cooling.
This series of heat pump can adjust the output capacity automatically and control the room temperature accurately.
The intelligent application control system provides convenient control for everyone in the family. Due to its integrated design, heat pumps have the characteristics of cost-effectiveness, space saving, and quiet outdoor operation. It has high efficiency and provides excellent performance and reliability.
The ambient temperature of the R32 refrigerant multifunctional DC variable frequency heat pump can be reduced to -15 ℃. COP is 30% higher than regular heat pumps.
New R32 gas heat pump is also available.
Features:
Full DC inverter Technology.
High efficiency class A+++
Smart 5 inch Control Panel with Wifi Mobile app
Highly efficient
Environmental friendly R32 gas available
Comfortable low noise
Advanced Technology
Quality-guaranteed Components
Mulitiple Modules Control
Multiple unit modules can be connected for common operation (with a maximum limit of 12 units), and the operation status can be synchronously monitored and controlled in the background.
Smart Grid & PV Ready
SG ready and PV ready, the cost of use is reduced, and it meets the requirements of local policies.Power consumption of the system can be automatically adjusted according to the peak and valley power to reduce the power consumption to the greatest extent. PV ready, connect to solar power at home to realize solar power supply and reduce usage costs.
R32&R290 Intelligent Display Control
R32&R290 heat pumps utilize an intelligent LCD display with high definition interface which users can red and control very easily.
Moreover,Smart APP control brings a lot of convenience to users.
R32/R290 Low GWP Refrigerant
Reducing and preventng global warming is an important mission . Besides,With most of the energy absorbed from the air with refrigerant gas,running at low cost and without CO2 emmision all year round to protect environment
A+++ Energy Level
Aircal King Heat Series has gained A+++ EU energy label. Highly efficiency
Full DC Inverter Technology
Full DC inverter Mitsubishi compressor and DC inverter brushless motor. With this technology, users can enjoy a maximum level of comfort with the lowest costs
Intelligent Water Temperature Adjustment
The unique control logic enables users to adjust the outlet water temperature intelligently, Feel the difference in your home comfort with an aircal heat pump.
Noise Reduction Technology
Adopts multiple noise reduction technologies, every product has been repeatedly tested and optimized.
Stable Running at -20℃ Ambient Temperature
Thanks to the unique Inverter EVI technology, can operate efficiently at -20°C, maintain high COP and reliable stability.
Multipurpose application scenarios
Water heating can be heated to 75 ° C through system heating, which can meet the hot water demand of hotels, hospitals, office buildings, schools, hot springs and other places.
Experience the smooth, quiet superior comfort of our most advanced heat pump
Lower heating and cooling costs while staying comfortable with a variable speed heat ... heat pump delivers maximum comfort while keeping noise levels low
IOT Web Platform Heat Pump
The fault report button creates a direct error report channel to the local service provider. When an error is reported, the service provider can notice the error information of the target house heating heat pump from the background system.The main functions of this platform include: centralized monitoring/visual management/intelligent linkage/fault alarm/report analysis/operation and maintenance management, etc.
King Heat
Model:

18DCT-32

23DCT-32

25DCT-32

30DCT-32
40DCT-32
80DCT-32
[Space Heating] Ambient Temp. (DB/WB): 7°C/6°C, Water Temp. (Inlet/Outlet): 30°C/35°C.
Heating Capacity (kW)
18.5
23.00
25.00
30.00
40.00
80.00
Power Input (kW)
4.00
5.00
5.40
7.45
9.41
18.82
COP
4.63
4.60
4.63
3.96
4.25
4.25
[Space Heating] Ambient Temp. (DB/WB): 7°C/6°C, Water Temp. (Inlet/Outlet): 47°C/55°C.
Heating Capacity (kW)
14.73
18.31
18.31
27.50
32.00
64.00
Power Input (kW)
4.7
5.87
5.87
10.00
12.54
25.08
COP
3.13
3.12
3.12
2.75
2.55
2.55
[Space Cooling] Ambient Temp. (DB/WB): 35°C /-, Water Temp. (Inlet/Outlet): 12°C/7°C.
Cooling Capacity (kW)
14.95
16.50
14.50
20.50
30.00
60.00
Power Input (kW)
5.20
5.70
5.27
7.88
10.87
21.74
EER
2.88
2.89
2.75
2.60
2.76
2.76
[Space Cooling] Ambient Temp. (DB/WB): 35°C /-, Water Temp. (Inlet/Outlet): 23°C/18°C.
Heating Capacity (kW)
17.82
21.00
21.00
27.23
34.50
69.00
Power Input (kW)
4.92
5.66
5.66
8.46
9.80
19.60
COP
3.62
3.71
3.71
3.22
3.52
3.52
Max. Power Input (kW)
6.21
7.10
7.10
13.20
14.20
28.40
Max. Running Current (A)
11.00
12.00
12.00
22.28
23.94
47.94
Power Supply
380-415V /3N~ /50Hz
Rated Water Flow (m³/h)
3.10
4.00
4.30
5.16
6.90
13.80
Compressor Brand

HITACHI/Scroll

Air Side Heat Exchanger

Tube-fin Heat exchanger

ErP Level (35°C)
A+++
ErP Level (55°C)

A++

Display

Colored Touch Screen

Wi-Fi Function
Optional
Refrigerant

R32

Sound Pressure Level dB(A) at 1m
56
58
58
71(55)
64(49)
68(52)
Water Pipe Connection (inch)

DN 32 (1-1/4")

DN 32 (1-1/4")

DN 32 (1-1/4")

DN 32 (1-1/4")
DN 40
DN 50
Net Weight(kg)
140
180
180
205
320
580
Net Dimensions (L×W×H) (mm)
1115x425x1310
1115x425x1312
1115x425x1312

1115x515x1540

1005x1005x2017
2005x1005x2017
Shipping Dimensions (L×W×H) (mm)
1115x500x1460
1115x500x1460
1115x500x1460

1115x600x1680

1350x1350x2200
2350x1350x2200
Loading quantity 20GP/40GP,40HQ (pcs)
22/46/46
22/46/46
22/46/46

22/46/46

10/22/22
5/11/11
Aircal also offer OEM/ODM design for your own brand of DC heat pump water heater
Heat pump water heater are excellent energy-saving solutions of residence, more energy saving than conventional gas boiler or electrical heater
Certificate
Provide BAFA certificate & CE certificate and ERP report issued by professional institutions. Customize customer-specific certificates and reports.
ROSH/SVCH certification
ROSH certification is an essential customs clearance requirement for the European Union, while SVHC&REACH certification, which is a mandatory requirement, continuously enhances environmental awareness.
CONTACT US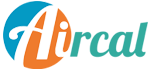 AIRCAL HEAT PUMP CO., LTD.
We are always providing our customers with reliable products and considerate services.
If you would like to keep touch with us directly, please go to contact us