Damping base for heat pumps
Damping base for heat pumps
Length: 1.250/2.500 mm;width:160/130 mm; height: 55/70 mm(two size) .Material: assorted rubber granules; loadcapacity: 300 kg; operating temperature: -30 C + 80 c
EFFECTIVE Oscillation Attenuation: Our anti-vibration supports are designed to effectivelydampen the vibrations generated by the heat pump or air conditioner.
ECO-FRIENDLY MATERIAL - Our supports are made of rubber granules which areobtained from worn car tyres, making them environmentally friendly and environmentallyfriendly.
Universal installation: the supports can be installed on different surfaces such as roofs withfilm, bitumen paper, membrane, concrete and floor.
DURABLE CONSTRUCTION: The weight and construction of the supports ensure asecure and stable position of the device as well as excellent damping properties.
EASY INSTALLATION - The set includes 2 support rods and a set of screws, which allowsfor quick and easy installation.
Ensure smooth and quiet operation of your device with our high quality anti-vibration feet for heat pumps and air conditioners. Easy to install products prevent vibrations from being transferred to the surface they are mounted on. Don't wait any longer, choose our anti-vibration feet and enjoy the smooth and quiet operation of your device.
The vibration damper perfectly dampens the vibrations generated by the heat pump or air conditioner. The base is made of rubber granules derived from the crushing of used car tyres. The base serves as a support for air conditioners, cold water sets, ventilation systems and pipelines that are placed on a roof covered with foil, bitumen cardboard or membrane as well as on other concrete or gravel surfaces (including the floor). The type of material used, its weight and its construction ensure a secure stand and very good cushioning properties. Inside the profile extruded from rubber granules there is an aluminium rail to which the feet or base of the device are attached with screws. The kit contains 2 brackets and a set of mounting screws.
Technical data:
Length: 1250/2500 mm.
Width: 160/130 mm.
Height: 95/65 mm.
Material: assorted rubber granules.
Load capacity: 300 kg.
Operating temperature: -20°C + 80°C.
Colour: black.
CONTACT US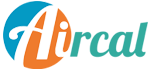 AIRCAL HEAT PUMP CO., LTD.
We are always providing our customers with reliable products and considerate services.
If you would like to keep touch with us directly, please go to contact us