R32/R290 Air to Water Hydronic Heat Pump with Hydrobox
R32/R290 Air to Water Hydronic Heat Pump with Hydrobox
The Hydrobox can be connected to underfloor, fan coils and radiators to provide a whole home central heating solution.
For users wanting potable hot water, the Hydrobox can be connected to a third party coiled cylinder.
Features:
Self-contained unit, only requiring water and electric connections
Single phase power supply with a low starting current
Low maintenance and quiet operation
Auxiliary Heat Source Control Function
With its intelligent control system, the NEWNTIDE heat pump can maximize precise cooperation with the existing auxiliary heat sources, such as gas boilers, electric heaters, etc., to ensure efficient and stable operation of each other.
When the electricity price is high, the heat pump runs as energy-saving as possible on the premise of ensuring the normal heating demand of the user. When electricity price is low, or even free (for example, from solar photovoltaic panels), the heat pump will use as much electric energy as possible.
To better meet the different heating needs, the heat pump provides a variety of modes for users to select: a. Cooling, b. Heating, c. OTC, d. DHW Hot Water
By controlling the electric heater in the water tank, the temperature of the domestic hot water tank is heated to a higher temperature to kill the bacteria in it and protect the health of the user.
User-friendly Operation Interface
The heat pump adopts an intelligent color screen wire controller, which allows users to operate all functions conveniently without the guidance of a professional installation and maintenance team.
By heating the water in the system to 70°C, the high temperature kills most bacteria.
Hydrobox system can communicate with heat pump unit to realize smart home control.
Component integration design
Hydrobox integrates water pump, valve, safety element, electric heater and other components. Compared with the traditional complex and cumbersome pipeline system design, its installation area is small.
Hydrobox for R32/R290 Heat Pump

Model:

R32

King Heat 6kw

King Heat 9kw

King Heat 12kw

King Heat 18kw

R290

Master Heat 6kw

Master Heat 9kw

Master Heat 12kw

Master Heat 18kw

Electric three-way valve

Included

Electric Heater

Included

Expansion Tank

Included

Circulation Pump

Included

Water Pressure Gauge

Included

Automatic Air Valve

Included

Pressure Relief Valve


Included

Flow Counter


Included

Indoor Unit Net Dimensions(L/W/H)


mm

650/530/262

650/530/262

650/530/262

650/530/262

Indoor Unit Package Dimensions(L/W/H)

mm

720/585/315

720/585/315

720/585/315

720/585/315

Indoor Unit Net Weight

kg

30

30

32

33

Indoor Unit Gross Weight


kg

33

33

35

36


Intelligent Display Control Demo Video
Heat pump water heater are excellent energy-saving solutions of residence, more energy saving than conventional gas boiler or electrical heater.
ROSH/SVCH certification
ROSH certification is an essential customs clearance requirement for the European Union, while SVHC&REACH certification, which is a mandatory requirement, continuously enhances environmental awareness.
CONTACT US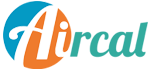 AIRCAL HEAT PUMP CO., LTD.
We are always providing our customers with reliable products and considerate services.
If you would like to keep touch with us directly, please go to contact us